Auction to feature 831-acre farm with irrigation and large tracts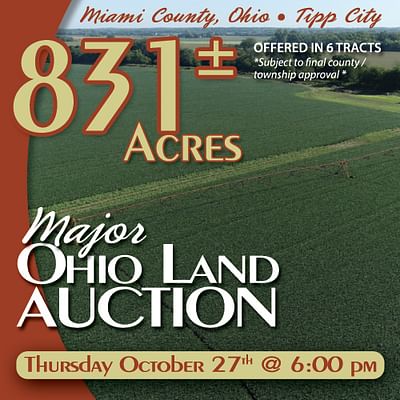 An 831-acre farm with large amounts of contiguous farmland and approximately 600 irrigated acres will be offered in a rare auction October 27, with Schrader Real Estate and Auction Company marketing the land and conducting the auction.

The land, offered in six tracts ranging from 24 acres to 405 acres, has 735.74 FSA cropland acres.

"This farm has a history of quality proven yields, and it has been well managed for fertility. Irrigation equipment is included, and the land is a 1031 Exchange opportunity," said Andy Walther, co-manager of the auction.

"It's rare to see a farm of this quality and size offered in this area. It features good soils and substantial frontage on SR 202," said R.D. Schrader, president of the auction company.

Schrader personnel will be available at the property October 10 from 9 to 11 a.m., and on Monday, October 17, from 1 to 2 p.m. to provide detailed information and accommodate inspections.

The auction will be at 6 p.m. Eastern Thursday, October 27 in the Duke Lundgard Building at the Miami County Fairgrounds, 650 North County Road 25A, Troy. Online bidding will be available by making arrangements a week before the auction.

The land is located at the intersection of Ohio Scenic Route 202 and Tipp-Elizabeth Road, just east of Tipp City, approximately 10 miles north of Dayton and 50 miles west of Columbus.

Individuals seeking additional information may visit www.schraderauction.com or call 800-451-2709.

Read More Auction Articles & News