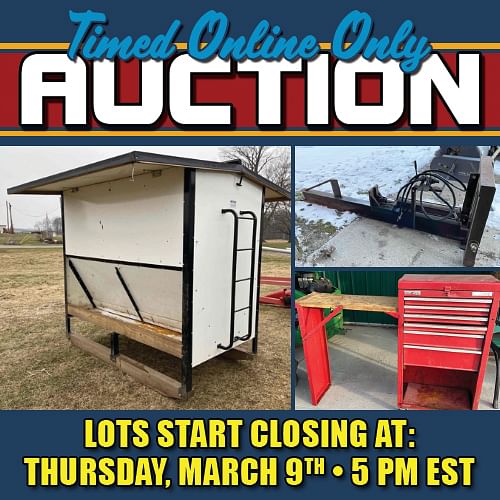 MARCH CONSIGNMENT TIMED ONLINE ONLY FARM EQUIPMENT AUCTION
Various Locations
Owner: Various Owners
Thu, Mar 9, 2023 EASTERN
AUCTION IS OVER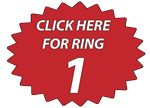 Online Bidding is available for this auction. Click on the link(s) below to view more photos, catalog and to bid online.
** Click here for online Ring 1 **

• WOLF Organic COOP Excess Truck & Equipment Auction • Many More Items!
1) Bid online at SchraderAuction.com
2) Bid by submitting an absentee bid on the item that you are interested in. Absentee bids need to be turned in no later than TUESDAY, MARCH 7th, 12pm!
PROPERTY LOCATION
Various Locations
AUCTION LOCATION
TIMED ONLINE ONLY
EQUIPMENT & PERSONAL PROPERTY
Boss Snow Plow
360 Yield Saver gathering chains off a JD 716C head w/ 1800 acres
Kubota ZD21 Diesel Zero turn mower, 60in deck
72in skidsteer hydraulic drive mower, new
Skidsteer post hole auger with 3 bits, new
Skidsteer pallet forks, new
Skidsteer grapple buckets, new
(4) 4ftx6ft heavy rubber mats
(15) 24ft self standing corral panels
(4) 620/70R42 tires on 10 bolt rims, off a CIH 285 Magnum
JD Snow blower
Trac Vac wagon
1954 International Harvestor Model 75 refrigerator/freezer, working condition
3pt head mover
3pt log splitter, 24in throat
HMS 2 ton cattle self feeder, like new
Simplicity Lawn tractor
Champion Dual fuel generator
JD bolt on bucket QT
Byron Seed Corn head parts
Prime Battery walk behind forklift
Cushman Factory battery powered cart
Several Trucks, SUVs
Gerringhoff cornhead snouts & parts
Insight header control w/ boost for chopping heads
Raven controllers
JD light bar
Ag Cam camera system
(3) Field View modules
(3) Agricultural Diesel Solutions chips, 3 stage, for JD S-series combines and JD 9R tractors
(2) Ag Express scales for liquid fertilizer for planter w/ flow meters
(2) Avery scales for JD 24 row planters
Green Star harness for Ag Chem Terra Gator 1803
post hole auger off a service truck, 16in & 18in bits
torque boost transmission out of a terra gator
lots of JD 1770 planter parts
Precision yield monitor for JD S680 combine
Precision 20/20 monitor w/ brain box
(8) Firestone Radial 480/80R46 tires

WOLF ORGANIC COOP EXCESS TRUCK & EQUIPMENT

2006 KW Cummins ISM, 13 spd, air ride with Hensley alum 8 compartment bulk feed bed
2003 IH 4300 DT 466, auto trans, Warren alum 3 compartment bulk feed bed
2001 Great Dane 102ft x 53ft air ride van trailer
1999 Volvo Detroit, 13 spd, air ride, wet kit
1994 Volvo Detroit, 12.7L, 10 spd, air ride
2005 IH 4300 DT466, auto trans 24ft flatbed
2016 Ford 550 4x4, V10, flatbed
2016 Interstate 14ft cargo trailer
1986 & 1976 Timpte Grain trailers
1982 Stoughton grain trailer
(12) Gravity Wagons
Ultimate bagging system, new
Pallet wrapper
(2) golf carts
6ft & 5.5ft T-posts, unused
Cement mixer
Craftsman 6 drawer tool chest w/ folding side bench
10 & 12 gauge electrical wire
Vivosun 1000 watt grow light, unused
Pallet racking
Bagging equipment
Truck box for storage
Semi parts, fenders, exhaust pipes, tires and rims
Grain leg trunks, distributor head and down spouts
Plus much more!
Cash or Check w/proper ID. 3.5% surcharge fee for credit cards. Announcements made the day of the auction take precedence over any printed material. Not responsible for accidents.