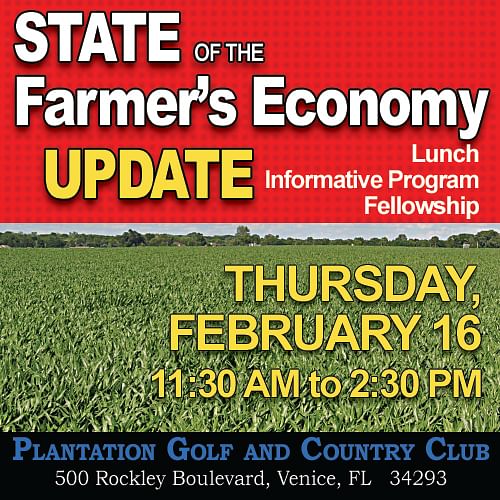 STATE OF THE FARMER'S ECONOMY UPDATE IN VENICE, FLORIDA
500 Rockley Blvd., Venice, FL 34293
Thu, Feb 16, 2023 EASTERN
AUCTION IS OVER
• Keynote presentation speakers: RD Schrader, President of Schrader Companies and the Salomon Family • RSVP by February 9th
Join us for Lunch, Informative Program, and visit with fellow landowners!
Meet Schrader representatives and learn about the current farmland market. Also hear comments about management of the family farm today.

11:30 - Registration
11:45 - Luncheon (RSVP)
1:00 - Program
2:30 - Questions, Then Social Hour on the Porch

Farm Owners, Spouses & Trustees Welcome!
No charge for program.
Lunch with great fun and farm fellowship expected.
RESERVATIONS REQUIRED!
AUCTION LOCATION
Plantation Golf and Country Club
500 Rockley Blvd., Venice, FL
Easy access to I-75
Between Fort Myers & Sarasota, FL
AREA MAP