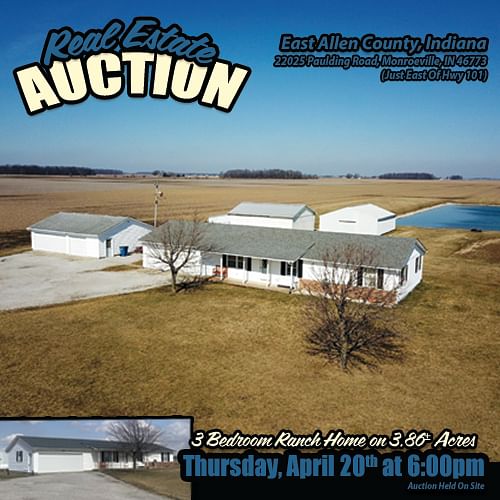 REAL ESTATE AUCTION - 3.86+/- ACRES OFFERED IN 1 TRACT IN ALLEN COUNTY, INDIANA
22025 Paulding Road, Monroeville, IN 46773 - Allen County, IN
Owner: Albert 'Abe' & Patricia Gerardot
Thu, Apr 20, 6:00 PM EASTERN
• 3 Bedroom Ranch Home on 3.86+/- Acres
"Abe and Pat have moved to their retirement home and will offer a beautiful country property at public auction. Come take a look at the possibilities this home has to offer!"
OPEN HOUSE/INSPECTION DATES
Sunday, April 2nd from 2-4PM
Tuesday, April 4th from 4-6PM
PROPERTY LOCATION
22025 Paulding Road, Monroeville, IN 46773 (Just East of Highway 101)
AUCTION LOCATION
22025 Paulding Road, Monroeville, IN 46773 (Just East of Highway 101)
PROPERTY DESCRIPTION
OVER 1400 SQUARE FEET

3 BEDROOMS, 2 FULL BATHS

LARGE EAT IN KITCHEN

OVERSIZED ATTACHED 2 CAR GARAGE

DETACHED 3 CAR GARAGE WITH SHOP AREA

2 ADDITIONAL POLE BARNS

1/2 ACRE STOCKED POND, 15ft deep, stocked with bass, bluegill and catfish

NEW FURNACE AND CENTRAL AIR IN 2018

500 GALLON PROPANE TANK TO STAY WITH PROPERTY

WHOLE HOUSE GENERATOR SYSTEM

NEW DISHWASHER IN 2020

ROOF LESS THAN 10 YEARS OLD

TRACT MAP(S)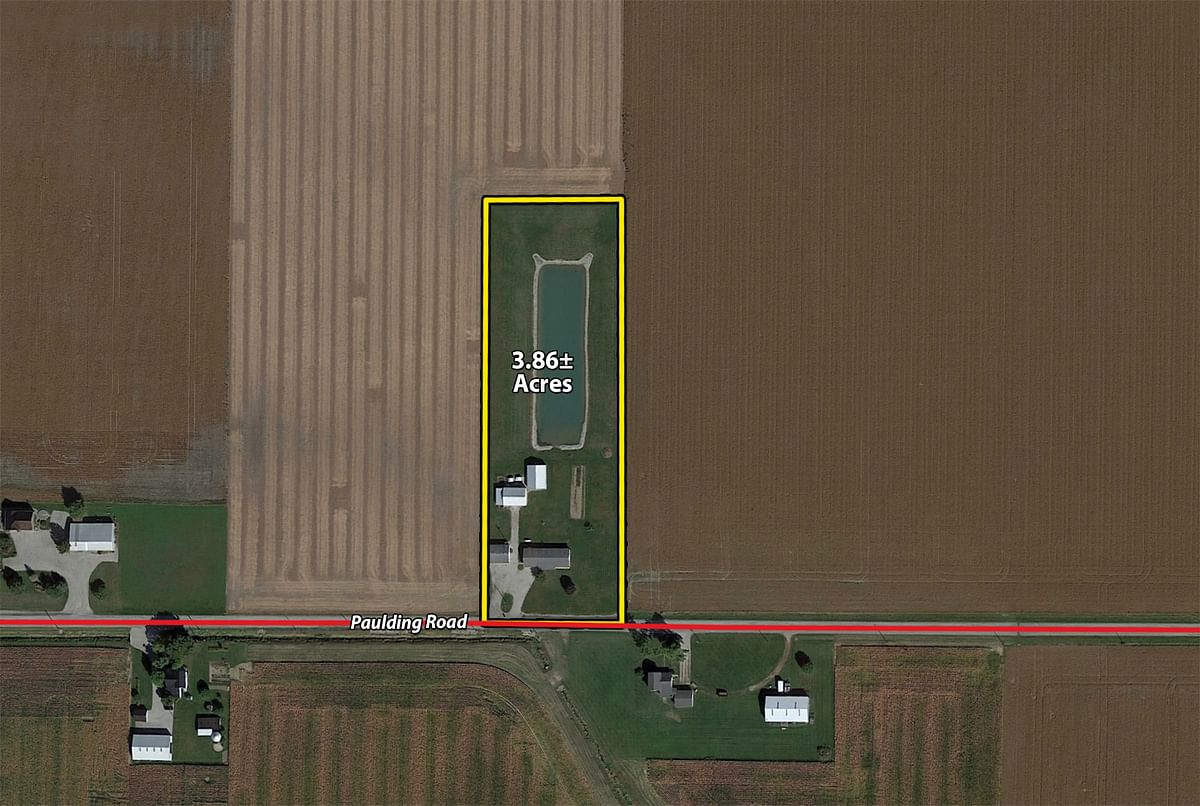 PROCEDURE: The property will be offered at oral auction. There will be open bidding during the auction as determined by the Auctioneer.

DOWN PAYMENT: $5,000 down payment on the day of auction. The down payment may be made in the form of cashier's check, personal check, or corporate check. YOUR BIDDING IS NOT CONDITIONAL UPON FINANCING, so be sure you have arranged financing, if needed, and are capable of paying cash at closing.

ACCEPTANCE OF BID PRICES: All successful bidders will be required to enter into Purchase Agreements at the auction site immediately following the close of the auction. All final bid prices are subject to the Sellers' acceptance or rejection.

EVIDENCE OF TITLE: Seller shall provide an owner's title insurance policy in the amount of the purchase price.

DEED: Seller shall provide a Warranty Deed(s).

CLOSING: The targeted closing date will be approximately 30 days after the auction.

POSSESSION: Possession is at day of closing.

REAL ESTATE TAXES: The Real Estate Taxes shall be Pro-Rated to date of closing. Buyer to pay all taxes thereafter. Buyer(s) to pay all ditch assessments after the closing.

PROPERTY INSPECTION: Each potential Bidder is responsible for conducting, at their own risk, their own independent inspections, investigations, inquiries and due diligence concerning the property. Inspection dates have been scheduled and will be staffed with auction personnel. Further, Seller disclaims any and all responsibility for Bidder's safety during any physical inspection of the property. No party shall be deemed an invitee of the property by virtue of the offering of the property for sale.

ACREAGE: All property acreages, dimensions, and proposed boundaries are approximate and have been estimated based on current legal descriptions and/or aerial photos.

SURVEY: There has been a new survey completed by Gouloff Jordan Surveyors dated 12/12/2022. The buyer will receive this new survey and will pay a cost of $400 for this survey at closing.

AGENCY: Schrader Real Estate & Auction of Fort Wayne, LLC. and its representatives are exclusive agents of the Seller.

DISCLAIMER AND ABSENCE OF WARRANTIES: All information contained in this brochure and all related materials are subject to the terms and conditions outlined in the Purchase Agreement. The property is being sold on an "AS IS, WHERE IS" basis, and no warranty or representation, either expressed or implied, concerning the property is made by the Seller or the Auction Company. All sketches and dimensions in the brochure are approximate. Each potential bidder is responsible for conducting his or her own independent inspections, investigations, inquiries, and due diligence concerning the property. The information contained in this brochure is subject to verification by all parties relying on it. No liability for its accuracy, errors, or omissions is assumed by the Seller or the Auction Company. Conduct of the auction and increments of bidding are at the direction and discretion of the Auctioneer. The Seller and Selling Agents reserve the right to preclude any person from bidding if there is any question as to the person's credentials, fitness, etc. All decisions of the Auctioneer are final.

ANY ANNOUNCEMENTS MADE THE DAY OF THE SALE TAKE PRECEDENCE OVER PRINTED MATERIAL OR ANY OTHER ORAL STATEMENTS MADE.