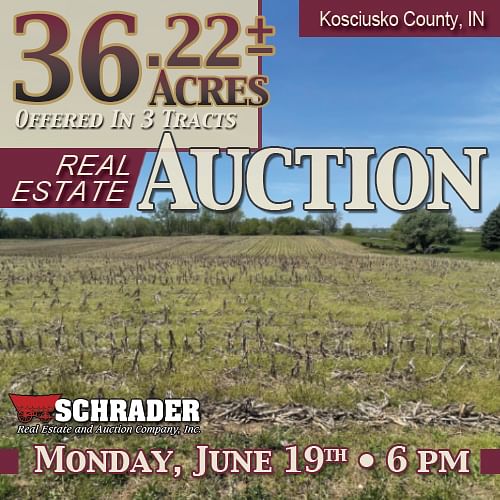 REAL ESTATE AUCTION - 36.22+/- ACRES OFFERED IN 3 TRACTS IN KOSCIUSKO COUNTY, INDIANA
973 E 250 N, Warsaw, IN 46582 - Kosciusko County, IN
Owner: The Roy Norman Estate
Mon, Jun 19, 2023 EASTERN
AUCTION IS OVER
• Home • Pole Buildings • Potential Building Sites • Tillable Land • Investment Property • Adjacent to Warsaw Airport
Bid on any tract, combination of tracts or on the entire property!
The property is zoned agricultural and is adjoining properties zoned industrial 2.
OPEN HOUSE/INSPECTION DATES
Monday, May 22nd from 4-6PM
Sunday, May 28th from 1:30-3PM
Or call the Auction Managers for private inspections.
PROPERTY LOCATION
973 E 250 N, Warsaw, IN 46582
From SR 15 just north of US 30 in Warsaw turn east on CR 250 N (across from Walmart) 1.5 miles at the intersection of CR 250 N and CR 100 E.
AUCTION LOCATION
The Fireman's Building
1013 E Arthur St., Warsaw, IN 46582
From Detroit St. (SR 15) in Warsaw turn east on Arthur St., past Pike Lake Beach and Pike Lake Campground.
TRACT DESCRIPTIONS
Tract 1: 6.5± ac Potential building site, mostly tillable, great investment potential with road frontage on CR 250 N & CR 100 E.
Tract 2: 2± ac 3-bedrooms, one bath, 1 1/2 story home, 1536+/- square foot of living space, with basement and crawl space. Kitchen, and 2 pole buildings 30ft x 30ft and 40ft x 30ft and a 10ft x 12ft utility building. Plenty of room for storage, workshop or hobbies. Lots of ornamental plants, trees and bushes. Corner location on CR 250 N & 100 E.
Tract 3: 27.7± ac Potential building site, excellent investment potential and approximately 25+/- tillable acres, road frontage on CR 100 E.
TRACT MAP(S)
Tracts 1-3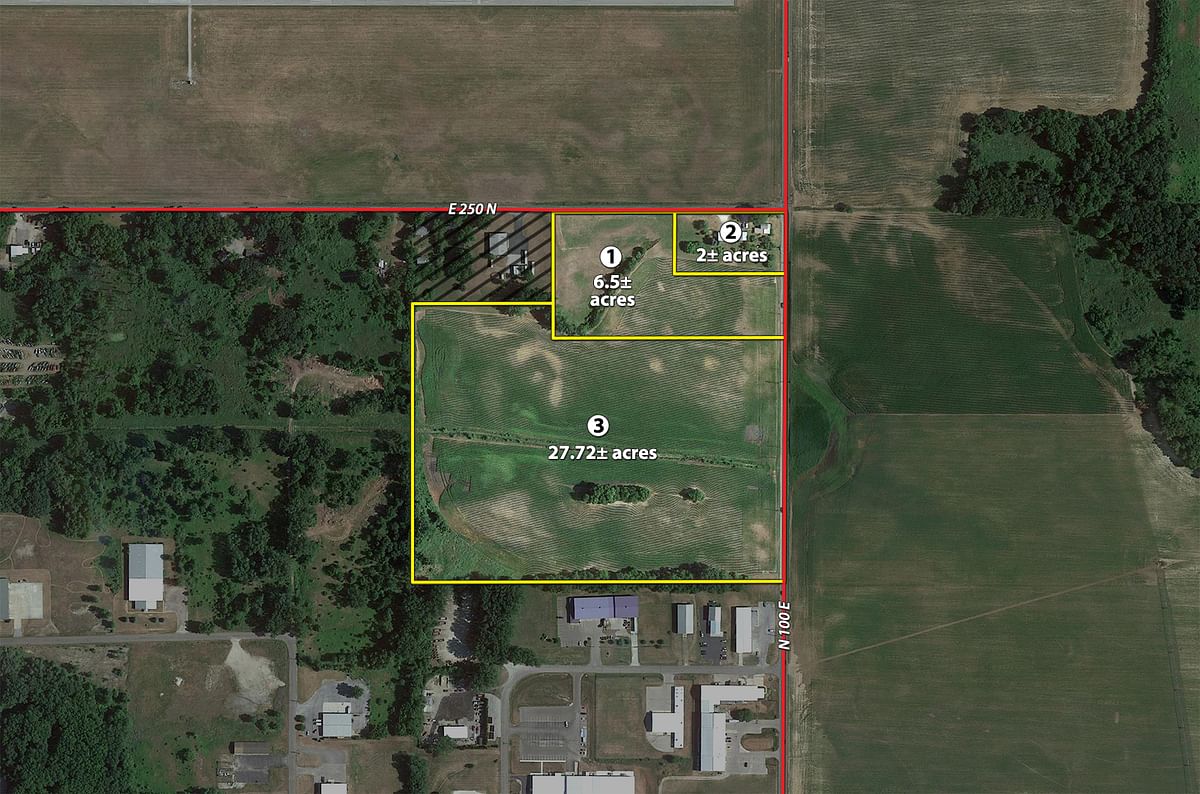 AREA MAP(S)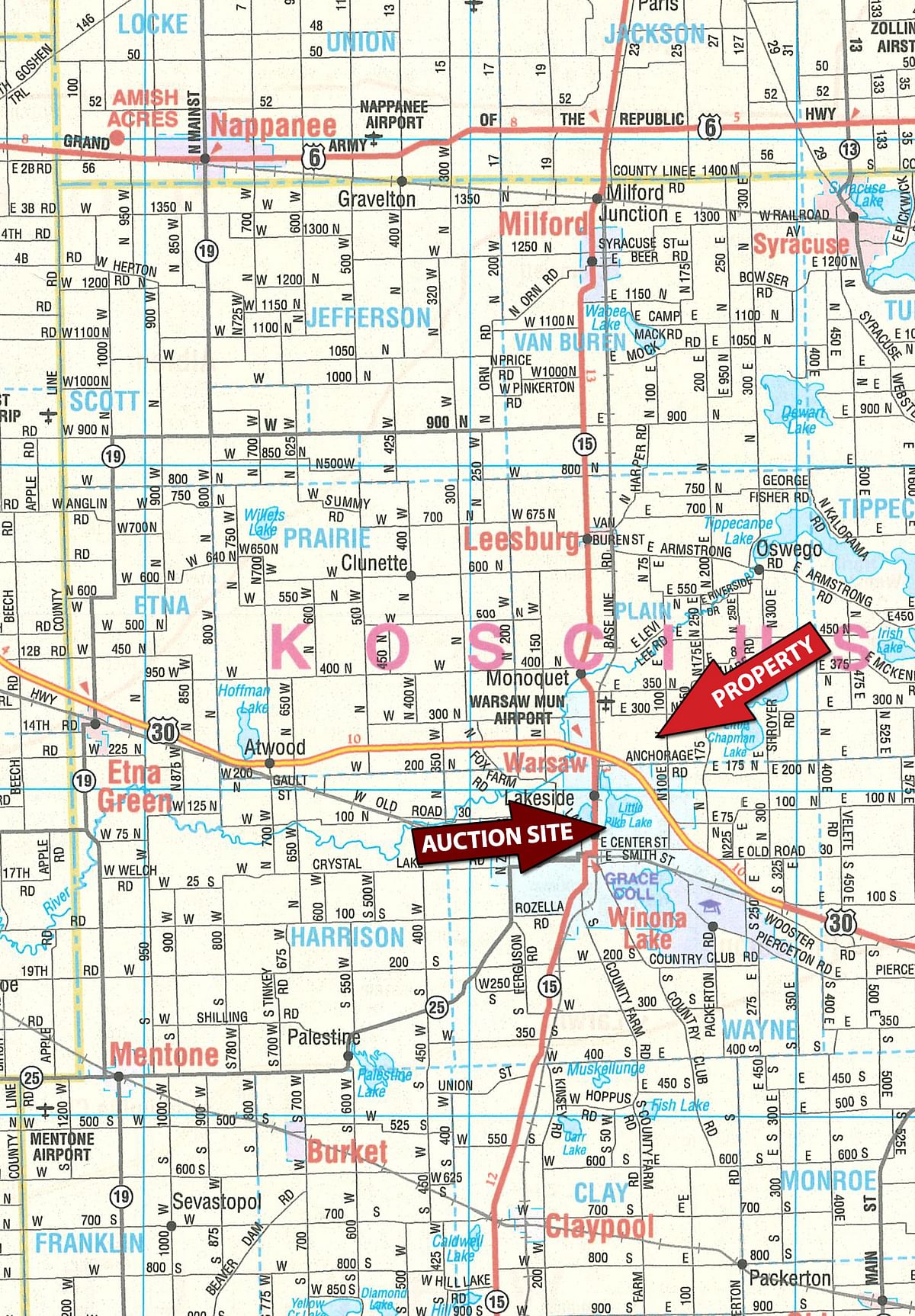 PROCEDURE: Bid on individual tracts, any combination of tracts or on the entire property. There will be open bidding on all tracts and combinations during the auction as determined by the auctioneer. The property will be sold in the manner resulting in the highest total sale price.

BUYER'S PREMIUM: A 3% Buyer's Premium will be added to the final bid price and included in the contract purchase price. DOWN PAYMENT: 10% of the accepted bid as down payment on the day of the auction with balance in cash at closing. The down payment may be in the form of cash, cashier's check, personal check or corporate check. YOUR BIDDING IS NOT CONDITIONAL UPON FINANCING, SO BE SURE YOU HAVE ARRANGED FINANCING, IF NEEDED, AND ARE CAPABLE OF PAYING CASH AT CLOSING.

APPROVAL OF BID PRICES: All successful bidders will be required to enter into purchase agreements at the auction site immediately following the close of the auction. All final bid prices are subject to the Sellers acceptance or rejection. Purchase agreements will be signed by the registered bidder only. If you choose to share the purchase with another party, you will be required to do so after the completion of closing as indicated on the signed purchase agreement. DEED: Seller will provide a Personal Representatives deed.

EVIDENCE OF TITLE: Sellers will provide title insurance in the amount of the purchase price.

CLOSING: Closing shall take place within 30 days of proof of marketable title. Sellers shall not be responsible for any closing costs incurred due to the Buyer(s) securing financing. POSSESSION: At closing

REAL ESTATE TAXES: The Seller shall pay the 2022 real estate taxes due in 2023 and the first half of the 2023 taxes due in 2024, Buyer pays all taxes thereafter.

DITCH ASSESSMENTS: The Buyers shall pay any ditch assessments due after closing if any.

SURVEY: There shall be no new survey, if the entire property is purchased by one buyer. If Tracts are purchased separately, Buyer and Seller shall share survey costs 50:50. The price shall be adjusted to reflect the difference between advertised and survey acres, with the exception of the improvements on Tract #2 there will be no adjustment of acres if Tract #2 is purchased by itself or in combination with other tracts.

EASEMENTS: The sale of the property is subject to any and all easements of record. DISCLAIMER AND ABSENCE OF WARRANTIES: All information contained in this brochure and all related materials is subject to the Terms and Conditions outlined in the Purchase Agreement. The property is being sold on an "AS IS, WHERE IS" basis, and no warranty or representation, either express or implied, concerning the property is made by the Seller or the Auction Company. No guarantee as to location of septic and well, or condition of septic and well is made by the Auction Company, it's agents or Sellers. Each potential bidder is responsible for conducting his or her own independent inspections, investigations, inquires, and due diligence concerning the property. The information contained in this brochure is subject to verification by all parties relying on it. No liability for its accuracy, errors, or omissions is assumed by the Seller or the Auction Company. All sketches and dimensions in this brochure are approximate. Except for any express warranties set forth in the sale documents, purchaser(s) assumes all risks thereof and acknowledges that in consideration of the other provisions contained in the sale documents, Seller and the Auction Company make no warranty or representation, express or implied or arising by operation of law, including a warranty of merchantability or fitness for a particular purpose of the property, or any part thereof, and in no event shall Seller or the Auction Company be liable for any consequential damages. Conduct of the auction and increments of bidding are at the direction and discretion of the auctioneer. The Seller and Auction Company reserve the right to preclude any person from bidding if there is any question as to the person's credentials, fitness, etc. All decisions of the auctioneer are final.

ANY ANNOUNCEMENTS MADE THE DAY OF THE SALE TAKE PRECEDENCE OVER PRINTED MATERIAL OR ANY OTHER ORAL STATEMENTS MADE.