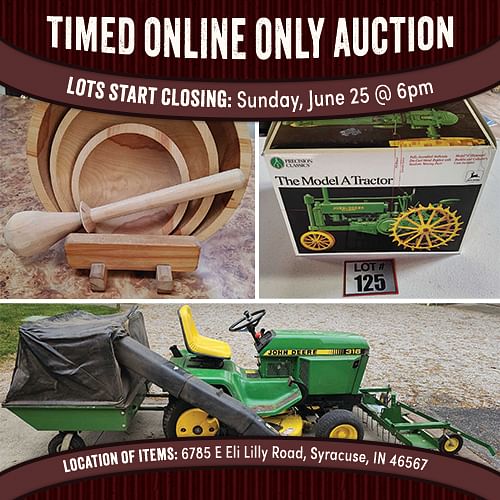 TIMED ONLINE ONLY PERSONAL PROPERTY AUCTION IN KOSCIUSKO COUNTY, INDIANA
6785 E Eli Lily Road, Syracuse, IN 46567 - Kosciusko County, IN
Owner: Mock Estate
Sun, Jun 25, 6:00 PM EASTERN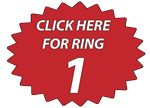 Online Bidding is available for this auction. Click on the link(s) below to view more photos, catalog and to bid online.
** Click here for online Ring 1 **

• Antiques • Household • Collectibles • Toy Tractors • Shop/Lawn • Garden/Recreational/Lake • Garden Tractors • Attachments
OPEN HOUSE/INSPECTION DATES
Sunday, June 25th from 2-4PM
PROPERTY LOCATION
6785 E Eli Lilly Road, Syracuse, IN 46567
From the intersection of North Eastshore Dr & E Cornelius Rd, take E Cornelius Rd approx. 1/2 mile to north Warner Rd/E Eli Lilly Rd, turn right for approx. 1/8 mile veer right, follow signs property (lake front) left side of road.
AUCTION LOCATION
TIMED ONLINE ONLY
EQUIPMENT & PERSONAL PROPERTY
ANTIQUES/HOUSEHOLD/COLLECTIBLES

Johnson SeaHorse Outboard Motor Embossed Molded Plastic Sign, Insert, 66in x 50in w/Original Photo of Mock's Marine Service, Syracuse, In.
Drop Front Secretary
67in Oak Coat/Hat Rack w/Brass & White Ceramic Hooks
Oak Entry Table w/Mirror & Drawer
Oak 4 Door Bookcase
4PC Glass Front Cabinet
Quilt Racks
Ethan Allen End Table
Round Top Kitchen Table/4 Chairs, 41in, 2 Leaves
Smith Brothers Berne, Flexsteel Pattern Sofa & Love Seat
Dish Sets: Cleveland China Co. Patrician Warranted 18K Gold & Hutschenreuther Selb L.H.S. Bavaria Germany
Vintage Mosser Green Glass, The Jennifer Miniature Sets #7, #9, #13
CorningWare Spice of Life/Callaway Ivy Casserole Dishes
Small Electrical Appliances: Crock Pots, (2) Oster Regency 12-Speed Kitchen Center Mixer Set, Oster Toaster, George Foreman Grill, Keurig Coffee Maker
Electronics: Epson Printer, RCA/Speakers, JVC VHS Player
Maytag Legacy Series Washer & Maytag Neptune Electric Dryer
(4) Vintage Chromcraft Swivel Bar Stools
Crock Jugs, Buckeye Pottery Macomb, ILL., 9in Brown Crock w/Lid
The Great Alaskan Bowl Company Wood Bowl Set
Dietz Night Drivers Friend Style Lantern
Smudge Pots
Gunther Wagner Ink Set
Hoher Harmonica
Arnold 1927 Ice Cream Scooper
Brooks 1ST Banner 34.5inx23in
Case Hats & Suspenders
1967 Pottawatomie & Miami Indian Trails Poster 18in22.5in
1920's Glass Eye Duck Decoy
UK Registered Salter No. 56 Family Scales/Counter Cast/Brass Weights
Ruffled Flora Pitcher & (3) Glasses
Miniature Cast Stoves: Crescent, Queen, Eagle
22in Cast Stove
Cast Stove, 18inx10inx28in
Vera Bradley Luggage
Longaberger Basket Hanger 60in
20+ Longaberger Baskets
Green Glass Front Entertainment Center
Flex Steel Striped Pattern Sofa
Brass: Eagle, Rocking Horse, Duck, Elk, Candle Sticks, Bell & Iron
Bedding, Linens
Wicker Doll Buggies, Doll Sleigh, Doll Bench,
Bunker Hill Scale Model Buggy, 44in x 16in x 15in, Millersburg OH.
Soleus Portable Air Conditioner
Vintage Domestic Rotary & Singer Sewing Machines
Antique Oak Office Chair
Vintage Red Comet Fire Extinguishers
Advertising Yard Sticks
Wawasee Soda Bottle
JD Metal Signs, Barnhouse, Farmall H/M & JD Model A Prints
Enamel Pots
Red Radio Flyer Wagon
Ice Cream Freezers
King Size Wood Spindle Headboard /Footboard/Bed Frame, 80in in Width
Canning Jars
Pampered Chef Apple Peelers
New Mailboxes, Elite Forest Green & Black
SteelWorks 4 Drawer File Cabinet

TOY TRACTORS

1/8 Scale Ertl Farmall M 1995 Farm Toy Show Tractor
Air Patrol Helicopter
Case DC3 Special Edition Tractor
Bobcat Loader Model 7753 1/25
Melroe Classic Edition Loader Model M-200 1/25
2005 RC2 EXPO VX JD 330 Utility Tractor
Nashville 1993 JD Roadster, Customer Roundup
Mac Allister Cat No.12 Caterpillar Motor Grader
Precision Classics: The Model A Tractor w/290 Series Cultivator, The Little Genius Plow 1/16, 1995 Precision Series Farmall M,
Ertl: 50 WF Tractor 1/16, 2001 Ertl JD Model 60 High Seat Standard, 2000 Ertl JD 2266 Combine 1/32, 1996 Ertl JD BW 40 The Rarest JD B Series Tractor Ever Built, 2000 Ertl JD Model A Hi-Crop 1950-1952, JD 420 Special Award Two-Cylinders Club EXPO XIII-2003, JD R Diesel, 1/16, Case NF Tractor, 1/16, IH Farmall Cub, 1/16, JD M, 1/16

SHOP/LAWN & GARDEN/RECREATIONAL/LAKE

Craftsman 2 Pc. Roll Around Tool Box, 41.5in x 18in x 59in Overall, w/Contents, No Key
Tactix Tool Box
Warn Mod 8274 Winch
Sprunger Table Top Band Saw, On Stand
Craftsman 8in Bench Top Drill Press
Craftsman Mod 113 Combination Disk/Belt Sander
Craftsman Router, Table, Guide & Bits
B & D Workmate 300 Work Station
Tool Shop Laser Level Kit, Professional Multi-Beam
MIT 14 Pc. Open End Wrench Set
Fuller 18in Pipe Wrench
Craftsman & Mac Open/Closed End Wrenches
Reeses Tow Bar, 2in Ball Set Up
Aaladin Mod 532 5G Power Washer, Honda GX 200 Motor, 4 Tips, 2500 PSI, Running/Working Condition, Needs Serviced
Power Washer Electric Pressure Washer
Daytona 8in Bench Grinder
Craftsman Anvil Vise
Corded/Battery Operated Tools
6 Ton Hydraulic Jack
Grease Gun & Napa Tubes Wheel Bearing/Chassis Grease
Fishing Poles
LaCrosse Alph Lite Muck/Hunting Boots, Size 12
45in Beach Rake & Sand
Yard Tools
Antique 2 Man Saw, American Logging Log Roller & Jorgenson Wood Clamp
Frog Spear
Folding Lawn Chairs, Patio Loungers, Tables
Clevises, Pins, Hitch Balls
Battery Operated Black & Decker Weedeater & Corded Edger
Echo PB-1000 Blower & Craftsman 17in Weedeater
Homelite HTC-12 Tiller-Cultivator, Motor Free, Needs Primer & Serviced
Wheelbarrow, Sprayer, Garden Seat, Pots & Sawhorses
Mixed Lot Scrap & Misc. Copper, Motors, Wire, Lights & More
Scotts Mod PF1 Seeder & 1/2 Bag Herbicide
18ft-20ft Aluminum Extension Ladder
Aluminum 6ft & Step Stool Ladders
Coleman Lanterns
XXL Yamaha Helmet
Schwinn Cruiser Six Bicycle
Raleigh Sprite Mens Bicycle, Metal Fenders, Made in Holland
Vintage Schwinn Breeze Ladies Bicycle
Life Jackets
Towable Tubes, Rafts, Noodles
Oftbrien Airageous Knee Board & EP Honeycomb Comp X.2 Slalom Ski
Oftbrien Performer Sport Flex Water, Custom Cut Amigo Water Skis
Taperflex Puritan Orion RM50 Water Skis

GARDEN TRACTORS/ATTACHMENTS
Cub Cadet 1641 Riding Mower, 46in GT Deck, Hyd. Drive, 16 hp V-Twin, shows 455 Hrs. S/N 843914, w/Bagger Attachment, New Battery 5-17-22, Deck S/N 431729 Running/ Mowing Condition, Stored Inside
IH Cub Cadet 106 Riding Mower, w/42in Deck, Kohler K241A Motor, w/Overhaul Kit, Restoration Project, Stored Inside
JD 316 Riding Mower, Hyd. Drive, Hyd. Lift 50in Deck, S/N M01013x117370, Factory JD Rear Wheel Weights, Onan Mod P218G Motor, shows 809 Hrs. Front Hyd. Hookup, Tractor S/N M00316X100710, w/ JD 56in Thatcher Attachment, w/Mod 50MOW Powerflo Unit S/N M00PFCC295258 & JR Bagger Cart, 400lb. Capacity, Running/Mowing Condition, Stored Inside
Lawn Boy Self Propelled Push Mower, Mod 10546, Aluminum Deck, Gold Series 5.o hp, 2-Cycle Commercial Grade Engine, Electric Start, Bagger, Electric Start Not Tested or Charged to Test, Motor Free, Needs Serviced
IH Cub Cadet Blade Attachment, 42in
Cub Cadet Mod 190 Snowblower attachment, 44in Mod/Mfg. Date 190-450-100/1219B, Stored Inside

AREA MAP
AREA MAP(S)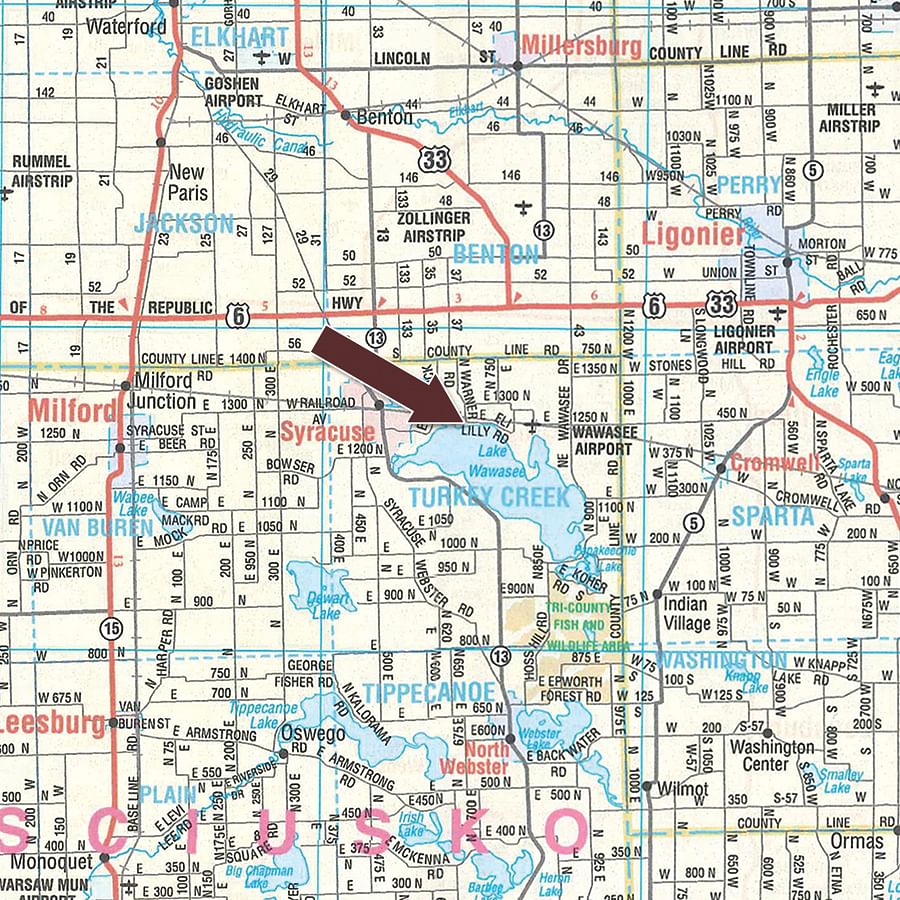 PAYMENT: Payments may be made online or onsite in the forms of cash, check or credit card (3.0% CC surcharge applies) on Monday, June 26 from 2-6pm & Tuesday, June 27 from 9am-12pm (noon)! OR by calling main office for ACH & credit card payments @ normal business hours @ 260-244-7606,

all payments are to be made by Tuesday, June 27 at 12pm (noon)!

NOTE: Main office hours Monday-Friday 8am-5pm. Onsite payments Monday,

June 26 from 2-6pm & Tuesday, June 27 from 9am-12pm (noon)! All payments to be made by 12pm (noon) Tuesday, June 27.

10 % BUYERS PREMIUM APPLIES

NOTE II: Please check e-mail & junk mail for invoice & add [email protected] to your preferred sender list, if you believe you have won items but have not received an e-mail within 1 hr. of auction ending, call main office @ 260-244-7606 on Tuesday, June 27. Text messages will be sent only as a reminder of pick up, not what lots bidders

have won it is the buyers responsibility to contact the auction company. Land lines slow down the process of contact please list cell phone # during registration (mobile/sms device).

LOAD OUT: 2 day load out!! Monday, June 26 from 2-6pm & Tuesday, June 27 from 9am-12pm (noon)! No loader available plan accordingly, staff is limited,

come prepared. Auction company does not provide boxes, packing, hand trucks or provide staff for loading of furniture & large items - come prepared!

**UPDATE**: Any items paid for & agreed upon with auction manager (due

to the volume of this service, delivery charges now apply) to be taken to main office in Columbia City for pickup are required to be picked up within 1 business week of auction, deadline Friday, June 30 at 5pm. NO EXCEPTIONS!

It is the buyers responsibility for pick up & reminders will not be sent out by auction company. Any items not picked up within the 1 business week timeframe will be returned to seller & no refunds will be issued.

SHIPPING: Shipping is available through 3rd party shipper - Columbia City Goin' Postal, 1080 Spartan Drive, Suite A, Columbia City, IN 46725, 260-248-8608 call for quote prior to bidding. All shipping & handling costs

are the responsibility of the buyer & said shipping/handling is between buyer & Goin' Postal, not the auction company.