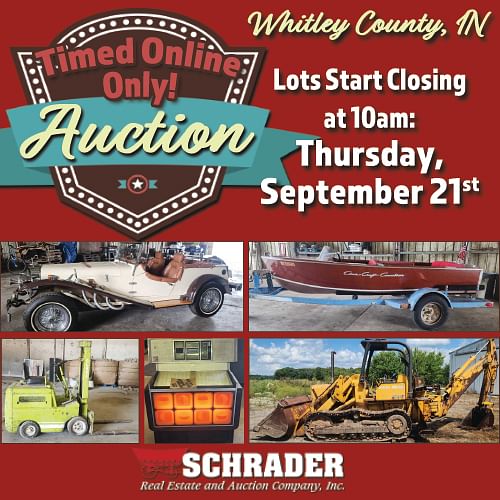 TIMED ONLINE ONLY PERSONAL PROPERTY AUCTION IN WHITLEY COUNTY, INDIANA
1150 W 150 N Columbia City, IN 46725 - Whitley County, IN
Thu, Sep 21, 2023 EASTERN
AUCTION IS OVER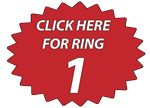 Online Bidding is available for this auction. Click on the link(s) below to view more photos, catalog and to bid online.
** Click here for online Ring 1 **

• Shop Equipment • Lawn & Garden • Antiques • Tractor • Vehicles • Boats
OPEN HOUSE/INSPECTION DATES
Wednesday, September 20th from 4pm-6pm
PROPERTY LOCATION
1150 W 150 N Columbia City, IN 46725
Directions: From the Intersection of US 30 & St. Rd. 109 Take St Rd 109 North Approximately 1.0 Miles to 150N, Turn West (Left) & Travel Approximately 1 Mile, Property on North (Right) Side of Road, Follow Signs
AUCTION LOCATION
TIMED ONLINE ONLY
EQUIPMENT & PERSONAL PROPERTY
SHOP EQUIPMENT/LAWN & GARDEN/ANTIQUES

Torch Set on Cart
BlackHawk Commercial Grade Floor Jack
Simpson 3400 PSI Power Washer
Tool Line 1/3 HP Pedestal Grinder
Craftsman 12in Table Saw
Lincoln 225 Amp Arc Welder
Reelcraft 3000 Hose Reel Cart, Lincoln 225 Amp Arc Welder
Green Hose Reel Cart
3 Pc. Kennedy Tool Box
Columbian Industrial Vise
Ridgid Threader/ Dies & Toledo Reamer
Ridgid Aluminum & Blue Grass 12in & 18in Pipe Wrenches
APA 24V Battery Charger
Central Machinery 5 Speed Bench Drill Press
Dewalt 14in Chop Saw
Huot 3 Drawer Metal Cabinet & Contents
Kenwood KMR-44OU Car Disc Player
Ratchet Straps
Ridgid & Superior Pipe Cutters
Roll Around Sign/ Parts Rack
Air Hoses
Electrical Cords
Rolls of Baler Twine
SWF/B-T1501 Commercial Embroidery Machine, Needs Mother Board
Heavy Duty Pallet Racking, 93in x 28in x 99in & 100in X 42in X 94in
(4) Sections Heavy Duty Pallet Racking, 8ft Sections, 16ft Overall
Parabody BodySmith Steel Rack, 52in X 45in X 82in
Roll Around Shop/Work Station, 8ft x 4ft x 80in
Industrial Work Table, 6ft X 31in X 37.5in
Sidewalk Display Sign, 30in X 55in X 55in
Steel Body Factory Carts 32in X 63in X 25in
2022 Kasco De-icer, Model 4400D075
Industrial Floor Fan
Burlap Bags
2/4 Wheel Dolly
Baker No. 121 Industrial Drill Press
2 Snyder 1200 Gallon Poly Tanks
14ft Wood Ladder
Werner 6 ft Wood Step Ladder & 8ft Fiberglass Ladder
Mailbox Base/Stand
Steel & Vinyl Posts
10ft Roller Conveyors
CertainTeed Shingles, Qty. 12 Bundles
Pull Behind Lime Spreader
Yard Tools
Massey- Ferguson Front Tine Tiller
Scotts Rotary Spreader
Power Trim Model 200 Edger
Craftsman 16in Rotary Mower
Schumacher SE4022 Battery Charger
Garden Pride 20in Push Mower
Lynx Chain Hoist
Lodestar 1/4 Ton Electric Chain Hoist
Climax Chain Binder & Chain
Moline Daily Chain Binders & Steel Wheel Pulley
2in x 10ft Rigid PVC Conduit Pipe
1in x 126in Galvanized Pipe
C-Clamps
Star Water Systems ES05S Aerator Pump
Tin/Metal/Wood Signs: Speed Limit 45 Metal Sign, 24in x 30in, Tin Caution Sign, 10in x 7in, My Barn My Rules Embossed Tin Sign, 10inx 7in, Private Beach Stay Out Wood Sign, 36in x 12in
Steel Wheel Antique Factory Cart
Antique Window Pane, 44in X 19in
Cast Eagles
1918-1928 License Plates
2 Man Saws
Wood Oars
Cross Country Ski's
Rowe AMI 200 Selection Juke Box, Model R-81, Albums, w/Manual, & 100+ 45fts, Skips Some Records, Working Condition, No Change Needed, No Keys, Needs Cleaned/Serviced
1960 Ford 601 Workmaster Tractor, Gas, WF, 3 Pt., 540 pto, 13.6-28 Rears, 6.00-16 SL Fronts, switched to 12 Volt, shows 335 Hrs. S/N 641 129040, Believe to be Original Hrs. Originally from The County Farm & Camp Whitley Columbia City, In. Needs Fresh Gas & Tune Up. Running Condition.
Wagon Gear w/Bed, 80in X 170in X 4ft
Wagon/ Implement Rims/Tires, H78-15
Wheelhorse 420-LSE Riding Mower, Limited Special Edition, 40/200, Automatic, shows 115.8 Hrs. Kohler 20 hp Engine, 46in Deck, 42in Blade, 36in Snowblower, Tire Chains, New Battery 08-23, Cover, Chrome Rims, Breather, Muffler, Steering Wheel, Deck Wheels & Hitch, Needs Tune Up, Stored Inside
2004 Sea-Doo Bombardier GTI RFI WaveRunner w/Cover, Runabout, HIN ZZN10193C404, Bill of Sale
1995 Yamaha VXR WaveRunner, w/Cover, HIN YAMA2837L495, Indiana Title & Bill of Sale
2002 Triton LT Aluminum 2 Place Wave Runner Trailer, 2in Ball, Reese Jack, Bill of Sale
Hewitt 1200 lb. WaveRunner Lift
Superior Products 750 lbs. WaveRunner Lift
1929 Mercedes Benz Gazelle Replica/Ford, Titled as Ford Replica, Body Type CP, Shows 65139 KM, 205/70R14 Tires, Tan Interior, Automatic, New Battery & Starter 08-23, VIN # MVIN344771IND, Indiana Title & Bill of Sale, w/Canvas Soft Top, Needs Tune Up, Stored Inside
1956 Chris-Craft Cavalier, V15623, 34244 Engine, Model A Engine, Complete Restoration, INZ120689797, Police Inspection & Bill of Sale Only, w/ Little Dude Trailer, VIN MVIN92454-IND. Bill of Sale Only
Clark Mod 2015 Gas Fork Truck, S/N CE892P1, Running Condition
JD 450C Crawler/Bulldozer w/Backhoe Attachment, approximately 70in x 36in Bucket, shows 2767 Hrs. S/N 233416T, 22in Backhoe Bucket, Less Than 200 Hrs. on Tracks, Rollers, Rails & Sprockets, (Complete Undercarriage) Running Condition
30in Backhoe Bucket

ADDED BY CAMP WHITLEY

(4) Marlin Model 15YN Bolt Action Single Shot Rifles

AREA MAP
AREA MAP(S)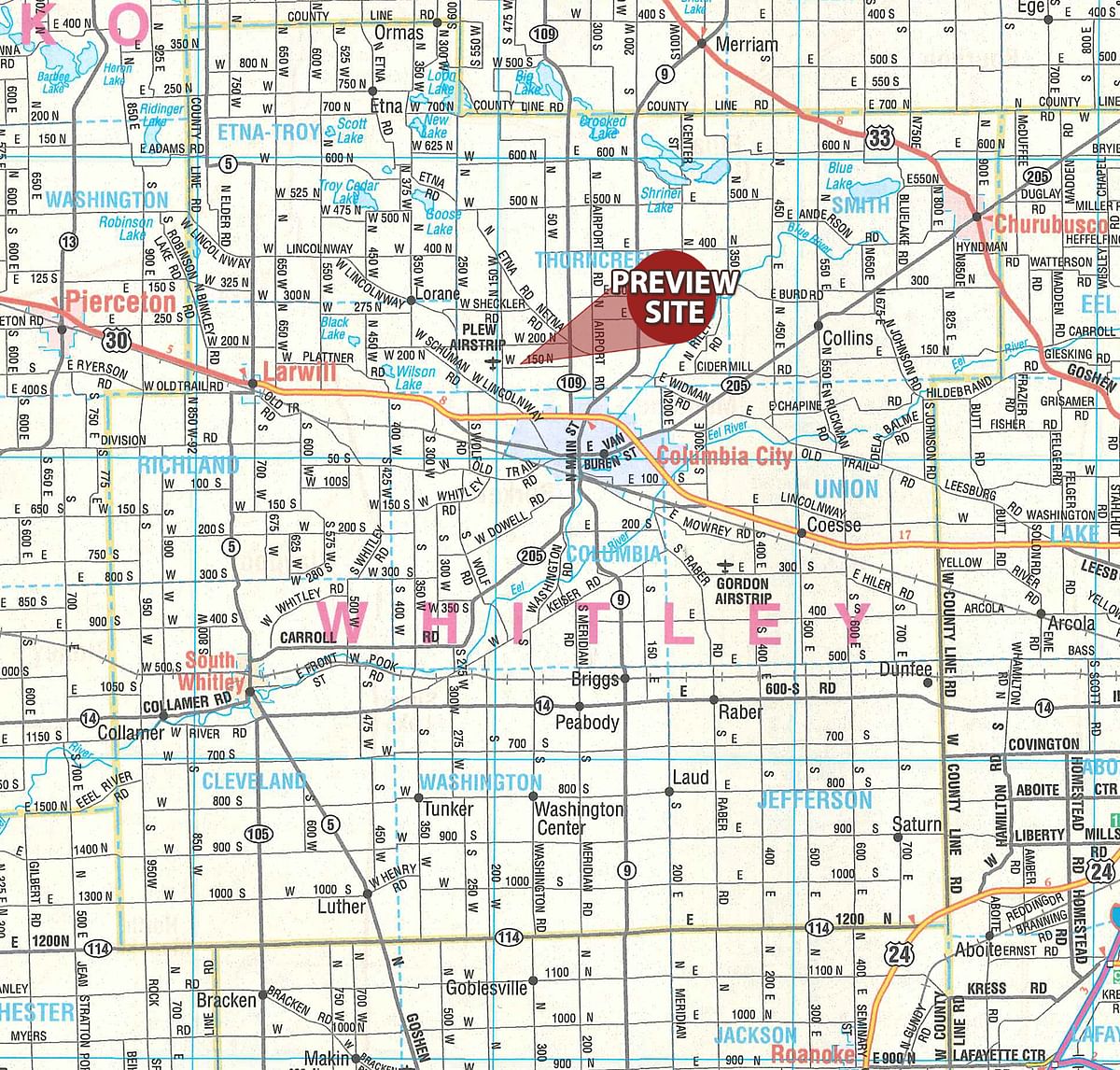 Payment: Payments May be Made Online or Onsite in The Forms of Cash, Check or Credit Card (3.0% CC Surcharge Applies) on Thursday September 21st from 3pm-6pm, Friday September 22nd 9am-1pm & Saturday September 23rd 9am-12 NOON or by Calling Main Office for ACH & Credit Card Payments @ Normal Business Hours @ 260-244-7606 Saturday Office Hours 9am-12 NOON! ALL Payments Are to be Made by Saturday September 23rd 12 NOON!

Onsite Payments: Thursday September 21st from 3pm-6pm, Friday September 22nd 9am-1pm & Saturday September 23rd 9am-12 NOON

Buyer's Premium Applies: 5% On Bulldozer Capped @ $750.00. All Other Items 10% Buyers Premium NOTE: Please Check E-Mail & Junk Mail For Invoice, and Add [email protected] to Your Preferred Sender List, If You Believe You Have Won Items But Have Not Received an E-Mail Within 1 Hr. of Auction Ending, Call Main Office @ 260-244-7606 On Monday June 19th. Text Messages Will Be Sent Only as a Reminder of Pick Up, Not What Lots Bidders Have Won. It Is The Buyers Responsibility to Contact The Auction Company. Land Lines Slow Down The Process of Contact Please List Cell Phone # During Registration. Mobile/SMS Device.

Load Out: 3 Day Load Out Thursday September 21st from 3pm-6pm, Friday September 22nd 9am-1pm & Saturday September 23rd 9am-12 NOON, No Loader Available!! Plan Accordingly, Staff is Limited/ Come Prepared/Auction Company Does Not Provide Boxes, Packing, Hand Trucks or Provide Staff for Loading of Furniture & Large Items, Come Prepared!

**UPDATE** Any Items Paid for & Agreed Upon with Auction Manager (Due to The Volume of This Service, Delivery Charges Now Apply) to be Taken to Main Office in Columbia City for Pickup are Required to be Picked Up Within 1 Business Week of Auction, Deadline Friday September 29th 5PM. No Exceptions, It is The Buyers Responsibility for Pick Up & Reminders Will Not Be Sent Out by Auction Company. Any Items NOT Picked Up Within The 1 Business Week Timeframe Will Be Returned to Seller & No Refunds Will Be Issued.

Firearms: All Firearms (Excluding Black Powder) Will Be Handled By Trigger Finger Sporting Goods, LLC 1221 US-33 #3, Wolf lake, IN 46796 No Exceptions. Hours: Call for Hours & Appointment Phone: (260) 635-1360Do Not Send FFL Information to Auction Company, All In State & Out of State Questions/FFL Information Call Directly to Trigger Finger 260-635-1360. $15 Transfer Fee Paid Directly to Trigger Finger Not The Auction Company.

Shipping: Shipping is Available Through 3rd Party Shipper Columbia City Goin' Postal 1080 Spartan Drive Suite A, Columbia City, In. 46725 260-248-8608 Call for Quote Prior to Bidding. ALL Shipping & Handling Costs Are the Responsibility of The Buyer and Said Shipping/Handling Is Between Buyer & Going Postal, Not the Auction Company.