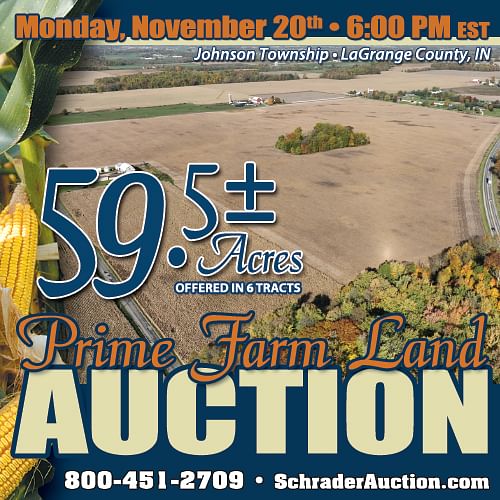 LAND AUCTION - 59.5+/- ACRES OFFERED IN 6 TRACTS IN LAGRANGE COUNTY, INDIANA
4455 S 200 E LaGrange, IN 46761 - LaGrange County, IN
Owner: David and Debra Grossman and Gary and Marilynn LLC
Mon, Nov 20, 2023 EASTERN
AUCTION IS OVER
TOTAL SOLD: $1,230,000
| | | |
| --- | --- | --- |
| Tract(s): 1-6 | @ $1,230,000 | ($20,672/acre) |
• Johnson Township • Prime Farm Land Auction

Auction Info Book
OPEN HOUSE/INSPECTION DATES
Wednesday, November 8th from 4-6pm
Monday, November 13th from 4-6pm
PROPERTY LOCATION
4455 S 200 E LaGrange, IN 46761.
Located south of LaGrange, Indiana 3 1/2 miles on SR 9 to CR 200E then south 2 miles to the farm.
AUCTION LOCATION
Clear Spring Produce Auction
2050 S. 300 W., Lagrange, IN 46761.
TRACT DESCRIPTIONS
Tract 1: 12± ac with 950ft frontage on CR 200 E and 550ft on CR 450 S. Mostly Conover Loam soil.
Tract 2: 12± ac with 550ft frontage on CR 450 S. Mostly Conover Loam soils.
Tract 3: 12± ac with 225ft frontage on CR 450 S. Soils are mostly Conover Loam with some Rensselaer and Wawasee
Tract 4: 10± ac mostly tillable with a pocket of woods on the east end with 610ft of frontage on SR 9. Conover, Rensselaer and Wawasee soils.
Tract 5: 10± ac all tillable with 780ft of frontage on SR 9. Mostly Conover soils.
Tract 6: 3.5± ac "SWING TRACT" woods with hardwood and recreational. Must be bought in a combination of tracts or by adjoining land owner. (Subject to Swing Tract Limitations)
TRACT MAP(S)
Tracts 1-6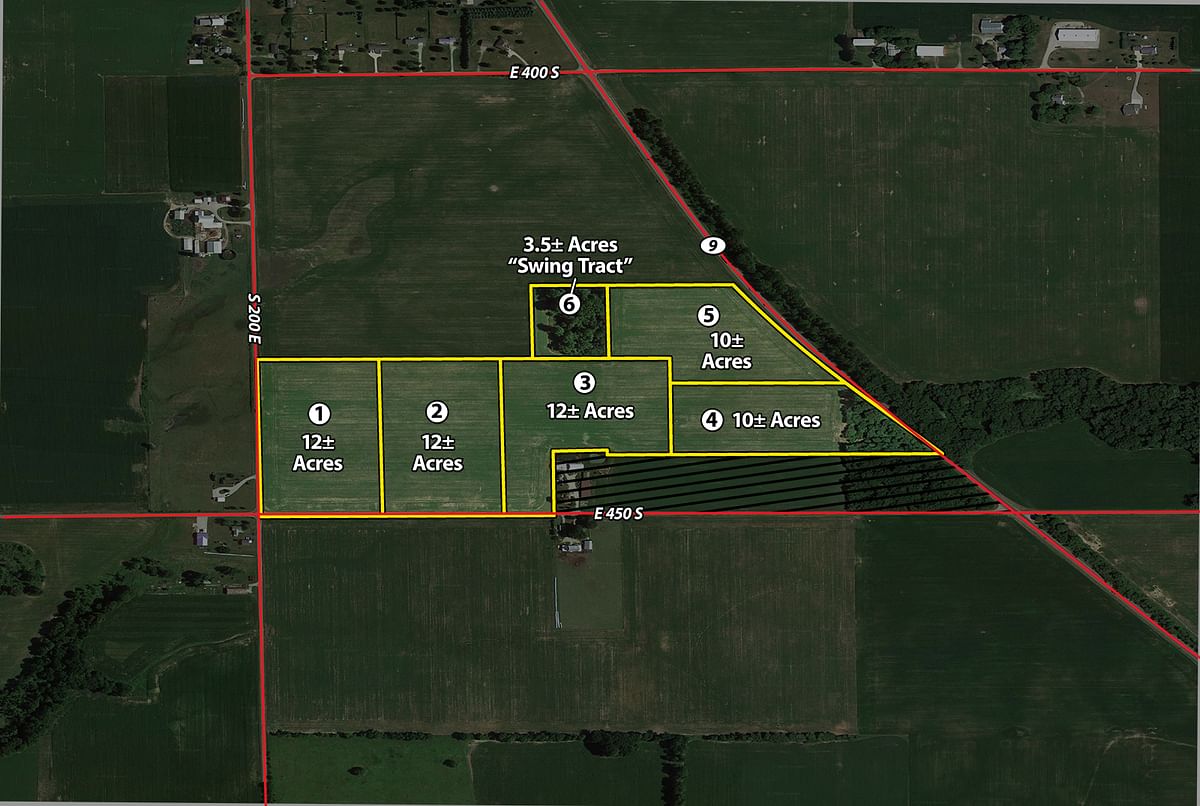 AREA MAP(S)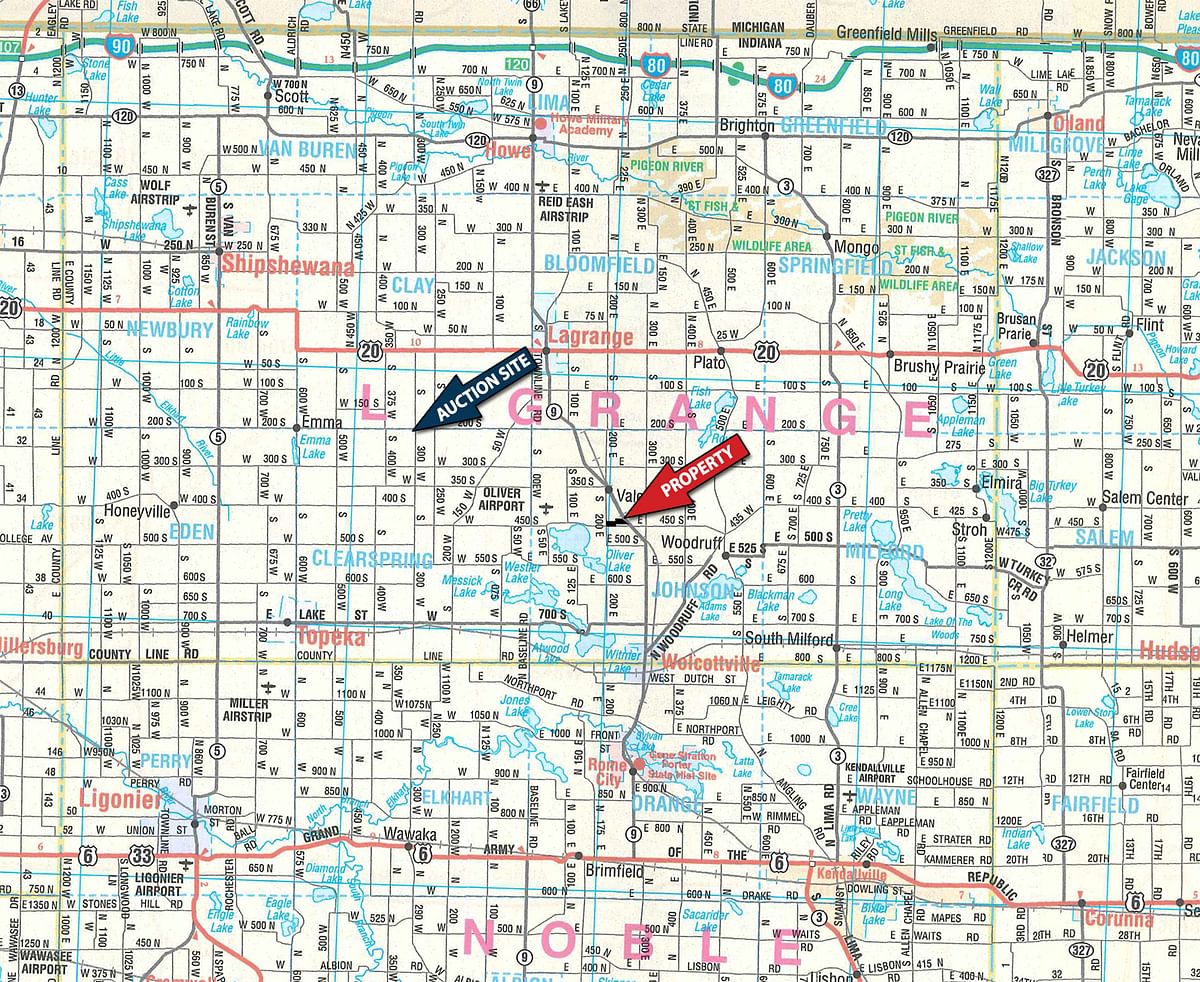 PROCEDURE: The property will be offered in 6 individual tracts, any combination of tracts (Subject to "Swing" Tract Limitations) and as a total 59.5+/- acre unit. There will be open bidding on all tracts and combinations during the auction as determined by the Auctioneer. Bids on tracts, tract combinations and the total property may compete.

DOWN PAYMENT: 10% down payment on the day of auction for individual tracts or combinations of tracts. The down payment may be made in the form of cashier's check, personal check, or corporate check. YOUR BIDDING IS NOT CONDITIONAL UPON FINANCING, so be sure you have arranged financing, if needed, and are capable of paying cash at closing.

ACCEPTANCE OF BID PRICES: All successful bidders will be required to enter into Purchase Agreements at the auction site immediately following the close of the auction. All final bid prices are subject to the Sellers' acceptance or rejection.

EVIDENCE OF TITLE: Seller shall provide an owner's title insurance policy in the amount of the purchase price.

DEED: Seller shall provide Warranty Deed(s).

CLOSING: The targeted closing date will be approximately 30 days after the auction.

POSSESSION: Possession is at closing.

REAL ESTATE TAXES: Real estate taxes will be prorated at the Closing and the responsibility of the Buyer(s) and thereafter.

PROPERTY INSPECTION: Each potential Bidder is responsible for conducting, at their own risk, their own independent inspections, investigations, inquiries and due diligence concerning the property. Inspection dates have been scheduled and will be staffed with auction personnel. Further, Seller disclaims any and all responsibility for Bidder's safety during any physical inspection of the property. No party shall be deemed an invitee of the property by virtue of the offering of the property for sale.

ACREAGE: All tract acreages, dimensions, and proposed boundaries are approximate and have been estimated based on current legal descriptions and/or aerial photos.

SURVEY: The Seller shall provide a new survey where there is no existing legal description or where new boundaries are created by the tract divisions in this auction. Any need for a new survey shall be determined solely by the Seller. Seller and successful bidder shall each pay half (50:50) of the cost of the survey. The type of survey performed shall be at the Seller's option and sufficient for providing title insurance. Combination purchases will receive a perimeter survey only.

AGENCY: Schrader Real Estate & Auction Company, Inc. and its representatives are exclusive agents of the Seller.

DISCLAIMER AND ABSENCE OF WARRANTIES: All information contained in this brochure and all related materials are subject to the terms and conditions outlined in the Purchase Agreement. The property is being sold on an "AS IS, WHERE IS" basis, and no warranty or representation, either expressed or implied, concerning the property is made by the Seller or the Auction Company. All sketches and dimensions in the brochure are approximate. Each potential bidder is responsible for conducting his or her own independent inspections, investigations, inquiries, and due diligence concerning the property. The information contained in this brochure is subject to verification by all parties relying on it. No liability for its accuracy, errors, or omissions is assumed by the Seller or the Auction Company. Conduct of the auction and increments of bidding are at the direction and discretion of the Auctioneer. The Seller and Selling Agents reserve the right to preclude any person from bidding if there is any question as to the person's credentials, fitness, etc. All decisions of the Auctioneer are final.

ANY ANNOUNCEMENTS MADE THE DAY OF THE SALE TAKE PRECEDENCE OVER PRINTED MATERIAL OR ANY OTHER ORAL STATEMENTS MADE.