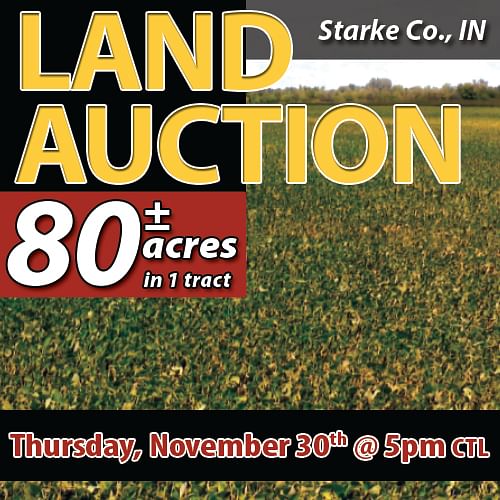 LAND AUCTION - 80+/- ACRES OFFERED IN 1 TRACT IN STARKE COUNTY, INDIANA
North Judson, IN - Starke County, IN
Owner: Charles Pingel
Thu, Nov 30, 5:00 PM CENTRAL
• Large Ranch-Style Home • Quality Soils • Small Farm Pond • High % Tillable
Mr. Pingel will be selling some farm equipment, tillage equipment, trailer and shop items and other misc. items at an online auction in December and he would wish the buyer of the farmland to work with the buyers of the equipment for removal.
OPEN HOUSE/INSPECTION DATES
Thursday, November 9th from 3-5:00 PM (CTL)
Tuesday, November 21st from 3-5:00 PM (CTL)
Or for a private showing call Jim Hayworth at 765-427-1913
PROPERTY LOCATION
From the intersection of SR10 & SR39 in North Judson, take SR39, 2 miles south to CR 800S, then take CR 800S approx. 4.5 miles east. The property is on the north side of CR 800S.
AUCTION LOCATION
California Township Fire Station
7225 S US 35, Bass Lake, IN
PROPERTY DESCRIPTION
2022-2023 RE Taxes: $1,623.34/6 mo.
Ditch Taxes: $111.20/6 mo.
FSA Info
Farmland 79.41 ac.
Cropland 71.06 ac.
Corn Base 33.98 ac.
Corn PLC Yield 109 bu.
Soybean 25.38 ac.
Soybean PLC Yield 29 bu.

TRACT DESCRIPTIONS
Tract 1: 80± ac tract with 71.06+/- acre in cropland. This tract of land has a small farm pond. Also, this tract has a large ranch-style home with 1884 SF on main level and a 1576 SF basement (per Starke Co. Assessor Sheet). This house has a kitchen, large family room, large living/dining room, 1 bath, (4) bedroom (with closets) and a large basement with a shower. This home also has an LP gas stove, oil heat and air condition. Also, there is a 21ft x 23ft attached garage. This property has a 48ft x 120ft tool shed with 40ft x 48ft shop with lights, wood burner and concrete floor. Also this property has (2) small grain bins, older barn, older corn crib, an older chicken house, 48ft x 48ft pole shed with mint still boiler and a 4400 gal. tank. These improvements will need a little TLC.
PROCEDURE: The property will be offered as a total 80+/- acre unit.

DOWN PAYMENT: 10% down payment on the day of auction. The down payment may be made in the form of cashier's check, personal check or corporate check. YOUR BIDDING IS NOT CONDITIONAL UPON FINANCING, so be sure you have arranged financing, if needed, and are capable of paying cash at closing.

ACCEPTANCE OF BID PRICE: The successful bidder will be required to enter into a Purchase Agreement at the auction site immediately following the close of the auction. The final bid price is subject to the Seller's acceptance or rejection.

DEED: Seller shall provide a Warranty Deed sufficient to convey insurable title to the real estate. Real estate is sold subject to all rights of way, legal highways, leases, easements of public record, and all other matters of public record.

EVIDENCE OF TITLE: Seller shall provide a preliminary title insurance commitment for review prior to auction. Seller agrees to furnish Buyer, at Seller's expense, an updated title commitment prior to closing. The cost of providing an Owner's Title Policy shall be paid for by Seller at closing.

CLOSING: The targeted closing date will be approximately 30 days after the auction.

POSSESSION: Possession will be delivered at closing.

REAL ESTATE TAXES: Seller shall pay all 2023 real estate taxes due and payable in 2024. Buyer shall assume any taxes thereafter. Buyer shall assume any ditch and drainage assessments due thereafter.

ACREAGE: All tract acreages, dimensions, and proposed boundaries are approximate and have been estimated based on county tax parcel data, county GIS and/or aerial mapping.

SURVEY: The Seller shall provide a new survey where there is no existing legal description.

PROPERTY INSPECTION: Each potential Bidder is responsible for conducting, at their own risk, their own independent inspections, investigations, inquiries and due diligence concerning the property. Inspection dates have been scheduled and will be staffed with auction personnel. Further, Seller disclaims any and all responsibility for Bidder's safety during any physical inspection of the property. No party shall be deemed an invitee of the property by virtue of the offering of the property for sale.

EASEMENTS: Subject to any and all existing easements.

STOCK PHOTOGRAPHY: A deer photo was used for illustrative purposes only and was not taken on the auction property.

AGENCY: Schrader Real Estate & Auction Company, Inc. and its representatives are exclusive agents of the Seller.

DISCLAIMER AND ABSENCE OF WARRANTIES: All information contained in this brochure and all related materials are subject to the terms and conditions outlined in the Purchase Agreement. The property is being sold on an "AS IS, WHERE IS" basis, and no warranty or representation, either expressed or implied, concerning the property is made by the Seller or the Auction Company. All sketches and dimensions in the brochure are approximate. Each potential bidder is responsible for conducting his or her own independent inspections, investigations, inquiries, and due diligence concerning the property. The information contained in this brochure is subject to verification by all parties relying on it. No liability for its accuracy, errors, or omissions is assumed by the Seller or the Auction Company. Conduct of the auction and increments of bidding are at the direction and discretion of the Auctioneer. The Seller and Selling Agents reserve the right to preclude any person from bidding if there is any question as to the person's credentials, fitness, etc. All decisions of the Auctioneer are final.

ANY ANNOUNCEMENTS MADE THE DAY OF THE SALE TAKE PRECEDENCE OVER PRINTED MATERIAL OR ANY OTHER ORAL STATEMENTS MADE.