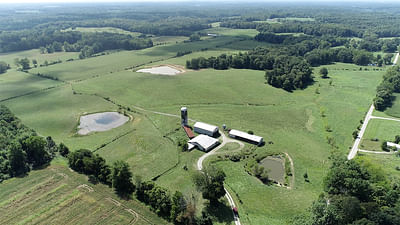 - CLOSED Wed, Dec 15 -
SOUTHEAST INDIANA FARM/RANCH FOR SALE - 1321 +/- ACRES IN JEFFERSON COUNTY, INDIANA
9904 W Ford Rd Lexington, IN 47138 - Jefferson County, IN
List Price: $4,700,000
Code: AW/RDS01J
• Total Acreage: 1321.00 ac • Tillable: 503 ac • Woods: 553 ac • Pasture: 230 ac

PROPERTY DESCRIPTION
Historically, the Perkinson family has managed this property as a productive cattle ranch while paying close attention to the maintenance of timberland along with conservation practice in the farms row crop and hay production. The possibilities and opportunity that this land offers are endless.


Rarely does an opportunity such as the Perkinson Ranch present itself to the marketplace. 1,321+/- contiguous acres features: tillable cropland, established hay ground, grazing meadows, wildlife habitat, mature timber, multiple ponds, and potential building sites. Don't miss the opportunity to evaluate such an exciting land offering in Jefferson County, Indiana. Within 45 miles of Louisville, KY and 8+/- miles of Hanover, IN. Much of the assessed tillable land is currently used as improved pasture and or for occasional hay production. As of today, the ranch is supporting 350+/- cow/calf pairs and features 91+/- acres planted in row crops (corn and soybeans). The Jefferson County USDA Farm Service Agency classifies 208.79+/- acres as "Cropland". While the assessor shows 503.82+/- acres as tillable, 331+/- acres has been in cropland at sometime over the last 10 years.


Tillable Income
Pasture Land
Ponds
Building Sites
Mature Timber
Wildlife Habitat FSA Data: Jefferson County Assessor classifies the property as follows: Tillable Land: 503.82+/- Acres - Woodland: 553.26+/- Acres - Pasture Land: 229.91+/- Acres - Ponds, Water, Roads, etc: 34.33+/- Acres. Total Acres: 1,321.32+/- Acres

PROPERTY LOCATION
9904 W Ford Rd Lexington, IN 47138 - Jefferson County, IN
laying just southeast of the intersection of IN SR 56 and IN SR 62.
IMPROVEMENTS
503+/- Tillable Acres (used for cropland, hay production, and pasture)
230+/- Pasture Acres
553+/- Wooded Acres
2-Story HOUSE & BARNS (subject to life estate of current tenant)
9+/- Acre LAKE for recreation along with multiple ponds
7+/- miles of road frontage



FOR THE RANCHER:
350+/- Cow/calf pairs currently supported on the farm
(8) strategically located Ponds throughout the property for cattle
Creeks crossing the property for seasonal water
13+/- miles of FENCING with multiple pastures that allow for rotational grazing practices.



CATTLE FACILITY with sorting pens, paddocks with automatic water, calving pens, semi loading chute, etc
Established grass and fescue pastures along with current land in hay



FOR THE HUNTER:
Proven track record for quality whitetails
Spring turkey hunting
Large Tracts of mature timber - Wildlife Galore!
Elevation changes creating natural draws and pass-thru areas
Scattered meadows for feeding
Beautiful Stocked 9+/- Acre Lake recreation (not accessible to cattle)
(8) ponds for waterfowl, wildlife and fishing

AREA MAP
TRACT MAP(S)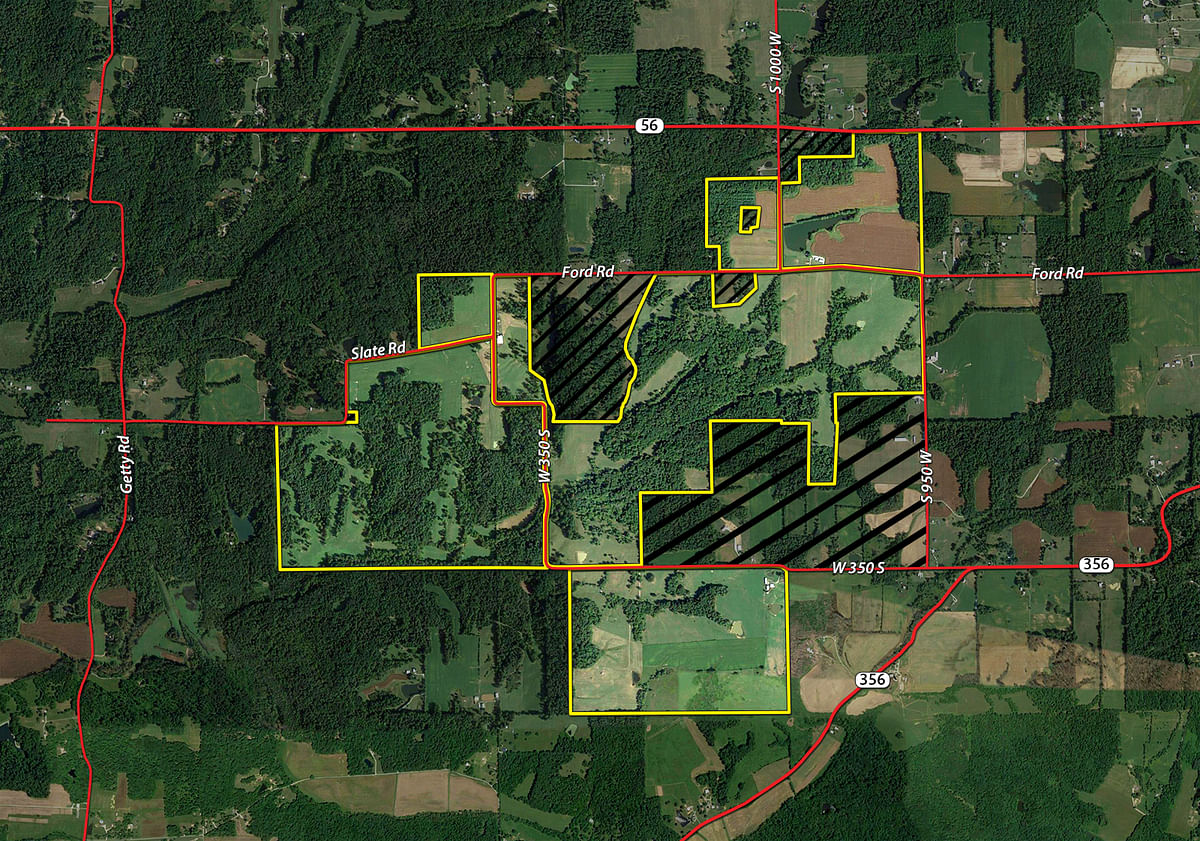 PLAT MAP(S)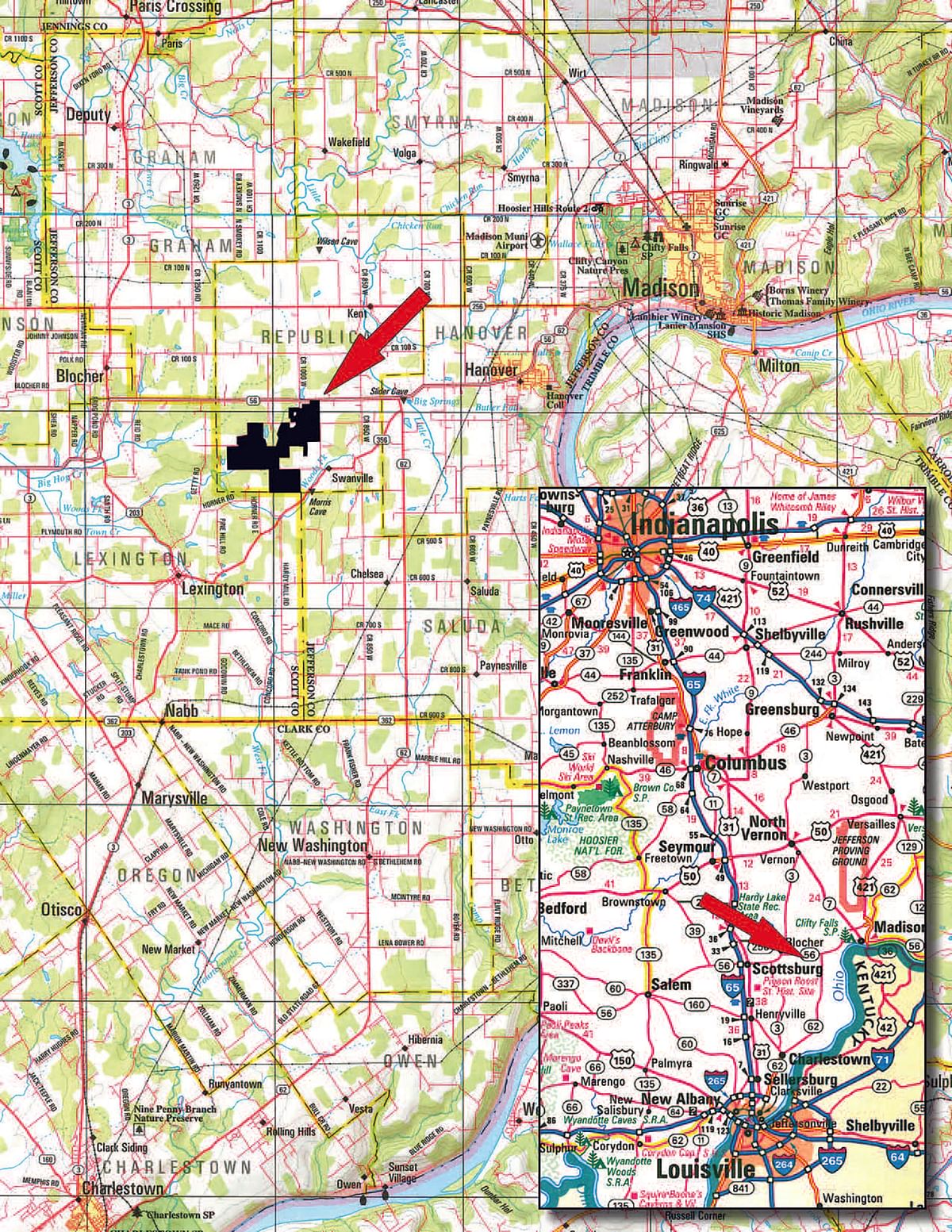 AREA MAP(S)