Midwest-based water sports heritage brand to be offered at auction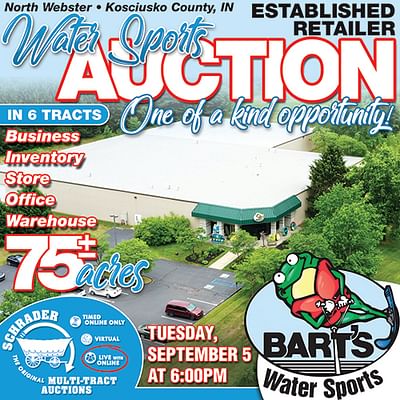 Since 1972, Bart's Water Sports has offered a full line of water sports equipment to a loyal national and international following. Their iconic frog logo is instantly recognizable to wakesurfers, paddle boarders, boaters, and water sports enthusiasts of all stripes, around the world. On September 5, the business, inventory, and real estate will be offered at auction by Schrader Real Estate and Auction Company. The owner will entertain non-contingent offers made by August 4 on the business, inventory and some of the real estate.

"Bart Culver founded Bart's Water Sports in a dilapidated old farm house in North Webster. Since then, it has grown exponentially and now consists of 44 acres and a 42,000-square-foot building that includes a warehouse, office, and retail space," said R.D. Schrader, president of the auction company.

"Bart's is a leading e-commerce water sports retailer with a spacious brick and mortar retail operation based in north central Indiana. They offer equipment for a wide range of activities, including wakeboarding, water skiing, tubing, floats, paddle sports, flotation devices, boating essentials, apparel, and wetsuits," said Schrader. "The inventory is vast and diverse. We're excited to offer a unique opportunity for a buyer to continue the legacy of a well-established heritage brand."

Schrader personnel will be available at the property August 10 and 28, and September 5 to accommodate inspections and provide detailed information. Visit www.schraderauction.com or call 800-451-2709 for specific times. The auction will begin at 6 p.m. Tuesday, September 5 at the North Webster Community, North Webster.

Read More Auction Articles & News