Schrader Farmer's Economy Update series enlarged to include four cities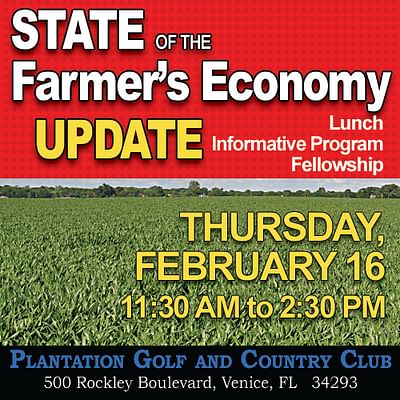 Schrader Real Estate and Auction Company will expand its Farmer's Economy Update series to four cities in 2023, beginning with the first session in Venice, Florida, on February 16.

The first update will begin at 11:30 a.m. at the Plantation Golf & Country Club in Venice. It will feature members of Indiana's highly regarded Salomon Family Farming Operation. Salomon has experience as both farm landlord and tenant and has been a leader in conservation practices. The operation recently participated in a 1031 Exchange for farmland.

Also speaking will be R.D. Schrader, president of the auction company, who will address trends affecting farmland in the past year. Farm management expert Steve Slonaker will offer comments from the field on operational and valuation issues.

"The Farmer's Update series has been well received and attended for several years in Venice and in Fort Wayne, Indiana. We are also offering sessions in Lancaster, Wisconsin, on February 22, and in Lafayette, Indiana, on March 7. We will wrap up the series with our session in Fort Wayne on March 10," said Schrader.

The Wisconsin event on Feb. 22 features R.D. Schrader's assessment of farmland markets along with insights from Jacob Burks, hedging strategist at AgMarket.Net, with a particular focus on risk management for producers. It will begin at 11:30 a.m. Central at Vesperman Farms, Lancaster.

The Lafayette session on March 7 will begin at 11:30 a.m. at the Beck Agricultural Center. It will feature Schrader and John Zanker, a commodities marketing specialist.

The Fort Wayne event on March 10 will feature Schrader and Roger McEowen, professor of Agricultural Law and Taxation at Washburn University School of Law, in Topeka, Kansas. The update will begin at 11:30 a.m. at the Cerutis Banquet & Event Center in Fort Wayne.

Advance registration is required for all four events. Those interested in attending may RSVP by calling 800-451-2709 or visiting www.schraderauction.com.

Read More Auction Articles & News